Start a Movement
I tell my kids the same 7 things every morning hoping that some day they will stick.  One of the things I tell them is, "Encourage Everyone!"  Then I ask them why do you think we should encourage other people?  By now they know the answer, which is, "Because everyone needs encouragement and when we encourage others it also encourages us."  Below is a picture of a text between my wife and I.  It's amazing how some of the little things we do can greatly bless others, bless us and bless many people to follow.  Read the text.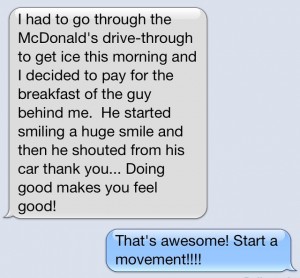 So a movement is started. My wife blesses the person behind her and in turn that person is encourage, and maybe they go on to bless someone else. But the movement doesn't stop there.  What about the witness to this event?  The drive through attendant.  They get to have a front row seat to this event and also get to participate.  Kindness spreads.  How encouraged are they in helping with this, its almost like a blessing side effect.  A movement is started.
My Encouragement for the day, "Start a Movement" you'll never know whose life it will change.